Finalisten prijzengala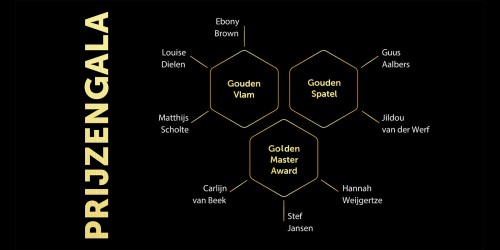 8/11/21, 8:41 AM

8/11/21, 8:41 AM
Tijdens de Avond van de Chemie (14 oktober) vindt ook het KNCV Prijzengala plaats. Hier reiken we de Gouden Vlam, Gouden Spatel en Golden Master Award uit. Dit zijn de prijzen voor respectievelijk het beste verslag op mbo-, hbo- en wo-niveau. Inmiddels is bekend wie meedingen naar deze prijzen.
Voor de Gouden Vlam (mbo) komen in aanmerking:
Ebony Brown (Nova Collega); De montage van de mScarletI en- mTurquoise2 plasmiden
Louise Dielen (Nova College); Kwaliteitstest DNA van tomaat uit bladmateriaal na verdunnen
Matthijs Scholte (ROC Twente); Optimization of continuous centrifugal contractor separator for optimal phase separation and study of liquid-liquid extraction
Voor de Gouden Spatel (hbo) komen in aanmerking:
Guus Aalbers (Fontys Hogeschool); Discriminating the Mechanisms in Plasmon-Activated Chemical Reactions via a Light-Driven Au@Ag Core@Shell Nanorod Synthesis
Jildou van der Werf (Van Hall Larenstein); Understanding the regulation of interleukin-6 expression and the effect of rs1800795 in the context of cancers and exercise induced metabolic adaptation
Voor de Golden Master Award (wo) komen in aanmerking:
Carlijn van Beek (Universiteit Groningen); Towards Introducing a High Level of Complexity by Combining Asymmetric Allylic Alkylation and Cyclisation
Stef Jansen (Universiteit Eindhoven); Two-Component Supramolecular Systems based on Boron-Nitrogen Frustrated Lewis Pairs
Hannah Weijgertze (Universiteit Utrecht); Patchy Rough Colloids as Pickering Stabilizers
Tijdens de Avond van de Chemie (14 oktober in het Parktheater in Eindhoven) maken we de winnaars bekend.
Koop kaarten voor de Avond van de Chemie