Linda Dijkshoorn wins Zilveren Zandloper Innovation Award 2021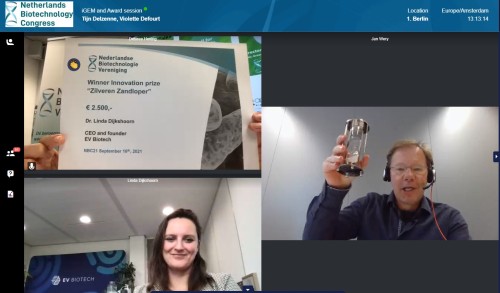 Linda Dijkshoorn, CEO of startup company EV Biotech, was awarded the Zilveren Zandloper Innovation Award from the Netherlands Biotechnology Association during its annual Netherlands Biotechnology Congress, held online on September 16, 2021.

The jury mentioned that Linda Dijkshoorn is on route to become one of the figureheads of the Dutch Industrial Biotechnology sector. They lauded her expertise, enthusiasm and perserverence in setting up a still growing biotech company.

Jan Wery, vice-president of the NBV, presented the award. The NBV congratulates Linda with this well deserved recognition. In addition to the statue, the winner receives €2.500,-.