Webinar: De (kanker)stamcel: de cel die alles kan?
Wat zijn (kanker)stamcellen en welke rol spelen stamcellen bij het ontstaan en bestrijden van kanker?
Een spectaculaire ontdekking in het onderzoek Colinda Scheele is dat zelfs als je een tumorsuppressorgen als p53 of BRCA1 muteert en de muis daarmee extreem gevoelig maakt voor borsttumoren, dat slechts 10 tot 20% van de kankerstamcellen uitgroeien tot een tumor. 'Er moet dus iets in de omgeving van die cel zijn wat ze in bedwang houdt. Misschien de structuur, of bepaalde moleculen die omliggend weefsel afgeeft.' Het past volgens Scheele in een groeiende overtuiging in het veld van kankeronderzoek dat naast genetische mutaties ook omgevingsfactoren bepalend zijn of een cel uitgroeit tot tumor.
3 vragen die aan bod zullen komen in het webinar:
Stamcellen, wat zijn dat? Hoe definiëren we ze?
Wat is de rol van stamcellen bij het ontstaan van kanker?
Wat is de rol van stamcellen bij het bestrijden van kanker?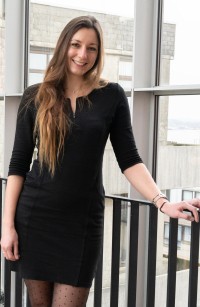 Colinda Scheele is een assistent professor en junior groepsleider bij het Vlaams Instituut voor Biotechnologie en de Katholieke Universiteit Leuven. Op 16 juni zoomt zij in op 'De (kanker)stamcel: de cel die alles kan?' en zal zij over bovenstaande vragen beantwoorden. Aan het eind van haar presentatie kun je zelf ook vragen stellen. Deelnemen kan via Zoom en Youtube. Via Youtube kun je zonder aanmelden kijken via www.youtube.nl/thekncv.
Mis het niet! Check http://www.kncv.nl/webinars