KNCV-erelid Prof. dr. Joan van der Waals is 100 jaar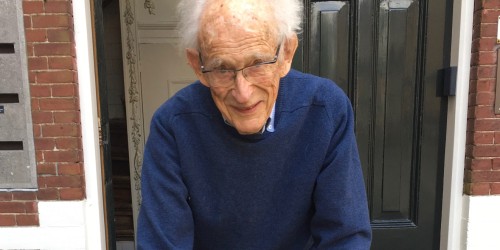 Saturday 02 May 2020

11:39
Vandaag viert erelid Prof. dr. Joan Henri van der Waals zijn honderdste verjaardag. Speciaal voor deze gelegenheid gingen we (op veilige afstand) bij hem langs in Leiden om hem te feliciteren.
Van der Waals promoveerde in 1950 aan de Universiteit in Groningen met zijn proefschrift Thermodynamic properties of mixtures of alkanes differing in chain length. Van 1967 tot 1989 was hij hoogleraar experimentele natuurkunde op het gebied van molecuulfysica aan de Universiteit in Leiden. Hier richtte hij zich op spectroscopie en magnetische resonantie.
In 1971 is hij benoemd tot lid van de Koninklijke Nederlandse Akademie van Wetenschappen (KNAW) en tijdens het zomercongres is hij op 27 augustus 1998 benoemd tot erelid van de KNCV.
Bovendien is Van der Waals bloedverwant aan Johannes Diderik van der Waals (1837-1923), die in 1910 de Nobelprijs ontving. Johannes was een neef van Joans overgrootvader.
Lees hier een interview van Leids Universitair Weekblad Mare met Joan van der Waals toen hij net 99 was geworden.