Highlights NBV mini-symposium on developing the next generation biorefinery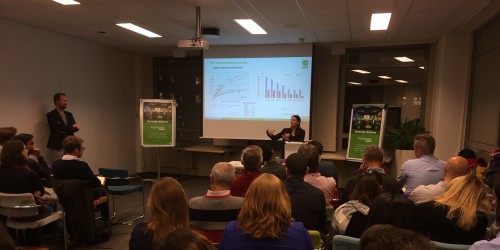 maandag 10 december 2018

10:41
On Tuesday, the 20th of November 2018 the NBV working group on product isolation and purification (NBV-PZ) organised a mini-symposium on developing the next generation biorefinery in the Eenhoorn in Amersfoort. Since 2002 the working group has organized over 30 mini-symposia related to down-stream processing in biotechnology. This evening over 40 people attended the minisymposium, in a nice mix of (young) professionals and academia.
After a welcome with sandwiches and drinks, the evening started with a presentation from Monica Moreno Gonzalez from Delft University of Technology where she presented her PhD work on the recovery of valuable compounds from food industry side streams using adsorption processes. Monica presented results on high-throughput screening and characterization of adsorbents and also discussed what an optimal mode of operation would be for such processes.
The second presentation of the evening was given by Trinath Pathapati from Xendo, Xpure systems. Trinath explained how continuous chromatography concepts could be used to recover bulk fermentation products and how different configurations of simulated moving bed (SMB)chromatography can be applied to downstream processing of e.g. gamma-aminobutyric acid. After the coffee break Corjan van den Berg presented recent highlights of the biorefinery group of Wageningen University and research. He presented some recent findings on protein valorisation and how deep eutectic solvents can be implemented in algal biorefineries.
The evening was concluded with some drinks and bites where the attendees used the opportunity to meet their peers in the field of biotechnology, discuss the presented work and made plans for future symposia and cooperation possibilities.