On Tuesday the 22nd of May 2018 the 18th edition of the Netherlands Biotechnology Conference (NBC-18) 'Biotechnology in Harmony' was organised in the Akoesticum by the Dutch Biotechnology Association (NBV). During this day, 170 professionals and students working in the biotechnology workfield were connected to each other and informed during several interactive sessions and keynotes about the latest developments in their workfield.
Inspiring keynotes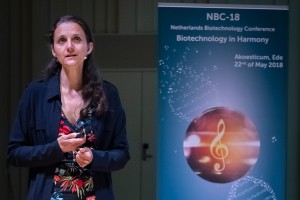 Véronique de Bruijn started the day as the first keynote speaker. As the CEO of Photanol B.V. this was a keynote about from a business point of view of biotechnology. The title of his presentation was 'A view on moving from start-up to commercialization through collaboration' and that was exactly what she presented. What started as a spin-off from the University of Amsterdam is currently working with partners as Corbion and AkzoNobel. "It is quite a step to bridge the gap from an academic invention to a real-life business. Photanol B.V. works on making the shift from fossil fuels to CO2 as the fuel for a new carbon economy. We make high value chemical compounds from CO2 and sunlight. In the future even bigger markets can be addressed, since it has such a high potential."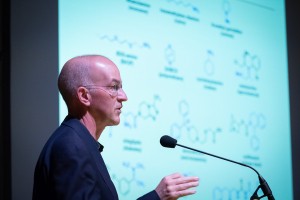 The second keynote speaker was Nicholas Turner, Professor of Chemical Biology in the School of Chemistry at the University of Manchester and Director of the Centre for Biocatalysis, Biotransformations and Biocatalytic Manufacture. "My group focussus on the design and development of new enzymes. We are constantly looking for enzymes that might be fest in order to create a certain product." Furthermore, he talked passionately about challenged and opportunities for biocatalysis with numerous examples, ranging from MAO-N to telpravir (hepatitis C) and from IREDs tot RedArms. He then continued to say: "If I was young now, I would focus more on bioinformatics, because their are so many opportunities."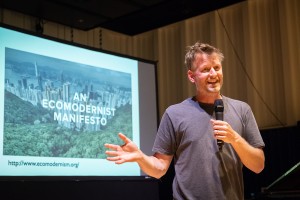 The last plenary session started more interactive. Mark Lynas, a well known science journalist, author and environmentalist, talked about his switch from anti-GMO to pro-GMO. In the past Lynas was anti-GMO, he even attempted to steal Dolly the sheep. "At a certain point in time I realised that in topics as climate change or GMOs, about 97 procent of the scientific data tends to point in one directions, I would not be able to be a serious science journalist if I would not re-assess my own views. So I did! Discussion should more often be based on scientific facts, instead of political convenience. Populism is a problem for science-based facts decision making, since rejecting truth and facts leads to a deminishing of the influence of scientific authorities." Mark Lynas ended his talk with a take-home-message for all visitors: "Scientists must be activists. If not, science is in danger."
Zilveren Zandloper
The Zilveren Zandloper for Education was awarded to prof. Jack Pronk. His first reaction: "I am extremely honoured and surprised to receive an award for the work that brings me so much joy (nearly) every day. Thank you very much."
Parallel sessions & Posters
The NBV work groups hosted the several parallel sessions. These work groups are Cell and Fermentation Technology, Microbial Systems Biology & Synthetic Biology, Green Biotechnology, Young NBV, Product Isolation, Applied Biocatalysis, Microbial Physiology and Societal Aspects of Biotechnology.
Moreover, visitors could visit several posters and companies during the breaks. Among these posters, were the Dutch iGem contestants. The iGEM 2017 TU Delft team also gave a presentation. Are you curious about the posters or parallel sessions? Please check-out the NBC-18 App for all abstracts!
The successful and exciting day was closed with a reception and a dinner.
NBV board change during ALV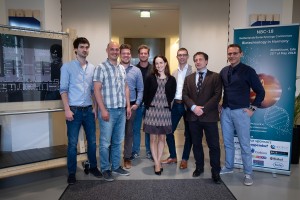 During the general member assembly (ALV) there was a change in the NBV board. After four years Denise Jacobs' period at the NBV came to an end. The board expressed their gratitude for all the work she did during these years. Her replacement is Loes Bevers from DSM.