Prof Nicholas Turner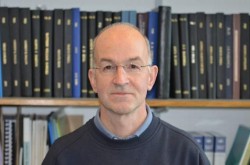 Nick Turner is Professor of Chemical Biology in the School of Chemistry at the University of Manchester and Director of the Centre for Biocatalysis, Biotransformations and Biocatalytic Manufacture (www.coebio3.org3). Nick obtained his DPhil in 1985 with Professor Sir Jack Baldwin and from 1985-1987 was a Royal Society Junior Research Fellow, spending time at Harvard University with Professor George Whitesides. He was appointed lecturer in 1987 at Exeter University and moved to Edinburgh in 1995, initially as a Reader and subsequently Professor in 1998. In October 2004 he joined Manchester University as Professor of Chemical Biology. He is also a co-founder of Ingenza (www.ingenza.com), a spin-out biocatalysis company based in Edinburgh. Recently he was awarded an ERC Advanced Grant 2017-2022 and the 2018 ACS Catalysis Lectureship for the Advancement of Catalytic Science.
ACS comments: "Prof. Turner is one of the world's leading scientists in the engineering of enzymes for application as biocatalysts in chemical synthesis. His research contributions successfully demonstrate that a wide range of different enzymes can be used to catalyze highly selective transformations that are of importance to both academic and industrial chemists, including biocatalytic reductive amination, alcohol to amine conversion using hydrogen borrowing cascades, and biocatalytic retrosynthesis."