Yuemei Lin receives Zilveren Zandloper Innovation Award 2019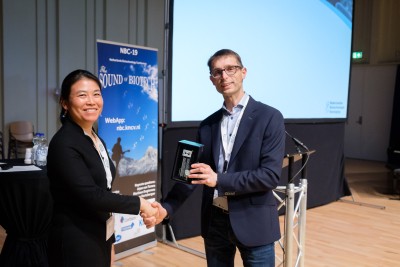 Researcher Yuemei Lin of the Biotechnology department of the TU Delft has received the Zilveren Zandloper Innovation Award 2019. She was awarded with the prize for "her research related to the addition of value to waste products via the characterisation and application of microbial polymers that are produced in waste water installations."
The research Yuemei conducts with her collegues holds a broad spectrum of applications for the future, of which some are already going in production. For example: the production of Kaumera from Nereda waste water processes. She also makes juwelery from Kaumera, which shows something unattractive as waste water can be used to make something beautiful. Her research also provided the basis for the start-up Slimy Green Stuff.